We opened our doors in 1930, one of the first 100 ready-mixed concrete plants in the country. Company lore holds that E.E. Austin went South for vacation for the winter and when he returned, his son Cle showed him the new ready-mixed concrete plant at 1919 Reed Street. Our Reed Street plant still stands on the site of the original 1930 plant, though it has been improved and modernized on numerous occasions over the years. In the 1960's we had plants in Fairview, Harborcreek, Edinboro, and Corry to assure that we could service all of Erie County. Technological improvements made it possible and more efficient to serve the entire county from our location on the Eastside of Erie, though, and we dismantled the satellite plants.
In 2004, we purchased Serv-All Concrete, another local ready-mixed concrete company. We eventually merged the two companies to form Austin Servall Concrete. The Servall addition added a second plant, located on Erie's Bayfront. Along the way, we've acquired and maintained a modern fleet of 17 trucks and added three 39' conveyors, a telescoping 60' conveyor, and a 36-Meter Putzmeister Concrete Pump. The philosophy from E.E. Austin and his son Cle of doing the right thing every time has continued down to the now 5th generation of family management.  It why Austin is the name you can trust in concrete.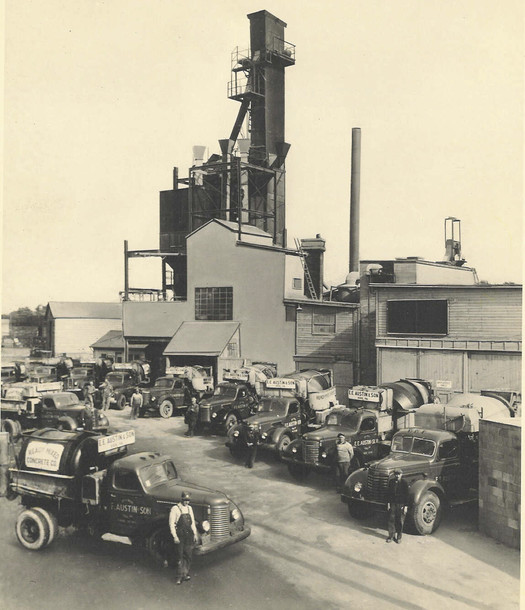 Make sure to check out our resources for concrete, you'll be glad you did!
*Courtesy of the National Ready Mixed Concrete Association,
Silver Spring, Maryland, USA
To order print copies, email publications@nrmca.org
or call (301) 587-1400 ext. 1165.
Commercial ICF Promotion Brochure
The concrete calculator estimates the volume and weight of necessary to cover a given area. Purchasing slightly more than what's estimated can reduce your chances for not having enough material.